Products tagged with waar broodverbeteraar kopen
3 Product(s) All < 20 ppm Gluten
Baking_soda (sodium bicarbonate) of Arm_and_Hammer 454 grams. Minimum order 4 x. Baking_soda if added acid, which is baking soda as a leavening agent baking powder for cakes, bread, cake biscuits and pancakes. Gluten dieetvoedi ...
€2,49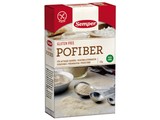 dried potato fibers. Brand: Semper Guaranteed without gluten. Binder. Use to improve baking results. EAN 7310100857200
€2,59
Brand: Finax. Fibrex is gluten-free, dry fiber, without taste and comes from sugar beets. It is mainly used in gluten free baking, so the bread is kept longer and juicier. More gluten-free lactose-free wheat-free diet foods, ...
€4,15